Case Study: Gaia's Gardens
The Client
Gaia's Gardens is a landscaping company based in New Hamburg, Ontario.
The Problem
As a new business, they wanted a simple web presence to supplement their advertising. They also wanted to ensure that, as the business grew, their site could grow with them.
The Solution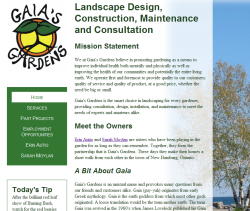 Right from the beginning, they have been focussed on providing personal service, so the site started off with a few pages of information about the owners and the services they provide.
As a way to encourage clients to return to the site regularly, a "tip of the day" was added, where a gardening tip is displayed on the home page. Tips are selected randomly from a pool of season-specific tips.
To keep the look fresh and current, a photo was taken of a local tree in each of the seasons (budding in the spring, full foliage in the summer, changing colours in the fall, and snow-covered in the winter), and the site background image cycles through these backgrounds automatically as the year progresses.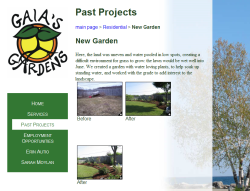 Adding a photo gallery addressed the growing need to show their portfolio of completed projects. An administrative interface allows them to add before and after photos in a variety of categories. Prospective clients can browse photos in the category most closely related to what they want done, and many new contracts have resulted from this.
Landscaping in Canada is very seasonal work and the industry typically sees a high rate of employee turnover from year to year. As the business grows, their website plays a key role in recruiting employees to address these seasonal changes in workload.
Most recently, the site was upgraded to use a content management system, allowing them to make updates to their content at any time. This is an enhancement that can benefit virtually any organization, large or small.
The Executive Summary
Small bits of customized dynamic functionality can add flair to an otherwise simple web site. The benefits that your company wants to realize from your site will help to determine where to focus these efforts in order to derive maximal value from your development dollar.
Even if your company is just starting up, or is testing internet marketing for the first time, it pays to build your site with an eye toward future expansion. Trawna Publications has experience growing sites, ensuring that each upgrade preserves and builds on your previous investment, minimizing your long-term expenditures.